Family Dentists Focused on Comprehensive and Compassionate Care in Westford, MA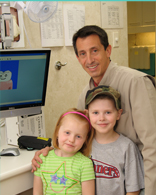 Making you happy and healthy, alleviating your concerns, and exceeding your expectations is what we're all about. We want to give you a reason to smile. Comprehensive dental care means that we're thorough; we have considered every aspect of your care and have worked diligently to create an atmosphere and experience that you can take confidence in. From cosmetic dentistry and restorative dentistry to replacement teeth and children's dental care, we have the services you need for a spectacular smile.
Since 1995, family dentists Drs. Dheeraj and Dr. Levenbaum have been helping adults and children from Westford and surrounding areas experience optimal oral health and maintain beautiful smiles. Learn more about some of the dental care services available in our dental office:
Routine and advanced cleanings, cosmetic-quality restorative care, tooth replacement, and even treatment for the serious problem of sleep apnea – you'll find all of these services and so much more in our Westford, MA dental office. We will discuss your care with you thoroughly and completely, making sure you're provided all the information you need to make the best treatment decisions for yourself and your family.
Patients come to our dental office from Chelmsford, Acton, Littleton, Carlisle, and surrounding Massachusetts communities to experience the excellent dental care and amazing results Drs. Dheeraj and Levenbaum can and have achieved at our Westford dental office. If you would like to experience the same level of care, contact us for an appointment today. We take great pride in creating new smiles and helping people find optimum oral health!